Transcriptions of Wills
WILL WRITTEN ONLY TWO DAYS BEFORE MURDER OF LORD OF THE MANOR!!
By Linda Rodgers
Thanks to Carolyn Jones for help with transcription
Historic Wills are often difficult to read and interpret.  However, the contents of a Will can shed invaluable light on family relationships, so can be a massive aid in the construction of family trees when there is little other information available.  These transcriptions convert a Will of the (at times) almost unreadable to a more readily readable form.
 

The amazing Will of Thomas Adams – Lord of the Manor of Swanbourne, murdered Saturday, 17th October, 1626, aged 30.  Coincidence?…..perhaps!
 
This Will is extremely difficult to read, but has now been transcribed (with some help from Lyn Jones).
It seems unbelievable, but this Will was written on Thursday, 15th October, 1626, only two days before he was murdered!!  The Will is reproduced below in readable form.
BELOW: Thomas Adams from a brass engraving, 1626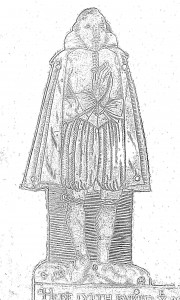 A second Will transcription is available (as a PDF) for John Adams, brother of Thomas and Joint Lord of the Manor of Swanbourne (below).
A third PDF copy of a Will is also below, and this is for James Adams, the last of the Swanbourne Lords of the Manor from the Adams Family.
JOHN ADAMS 1585 – 1655 Will of John Adams to download as a PDF   (Joint Lord of the Manor of Swanbourne)
JAMES ADAMS 1714-1775 Will of James Adams to download as a PDF  (The final Adams family  Lord of the Manor of Swanbourne)
Refer to the Murder and Ghost Stories of Thomas Adams and the Adams Family Tree