Literature, Links and References
Published References
Reading, K (1994)  –  Swanbourne – A History of an Anglo-Saxon Town.  Publ. by Short Run Press Ltd., Exeter.  IBSN 0-95246-350-4
Arthur Clear (1888) : A Thousand Years of Winslow Life
Arthur Clear's History of Swanbourne, Bucks Herald, 30th November, 1895
Swanbourne historic buildings in British History Online:-   http://www.british-history.ac.uk/report.aspx?compid=121302
Swanbourne Village History in British History Online:- http://www.british-history.ac.uk/report.aspx?compid=42593&strquery=swanbourne
E. H. Chalus: Fremantle, Elizabeth, Lady Fremantle (1778–1857). Oxford Dictionary of National Biography. (Oxford: Oxford University Press, online ed., May 2009). Retrieved 5 September 2010.
The Wynne Diaries 1789–1820. Edited and selected by Anne Fremantle. World's Classics. (London: OUP, 1952), p. 297+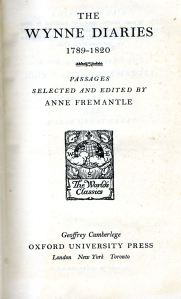 Elizabeth Wynne Fremantle: The Wynne Diaries. Vol. 1 1789–1794, Vol. 2 1794–1798, Vol. 3 1798–1820. Edited by Anne Fremantle. [Including extracts from the diaries of Eugenia and Harriet Wynne.] (London: OUP, 1935, 1937 and 1940).
http://en.wikipedia.org/wiki/Elizabeth_Wynne_Fremantle
A. Bartley DFC (bar):- Smoke Trails in the Sky, 2nd Ed. 1997; published by Crecy Publishing Ltd. IBSN 0947554637.
C. E.  Willett:- A Union Soldier Returns to the South; 1994; published by Overmountain Press.
Battle Tactics
BBC – Battle tactics of Trafalgar, 1805, animated.: http://www.bbc.co.uk/history/interactive/animations/trafalgar/index_embed.shtml
Bucks County Council Museum Records:  https://ubp.buckscc.gov.uk/SingleResult.aspx?uid=TBC314
Local Websites
Dukes of Buckingham Website: http://www.dukesofbuckingham.org.uk/people/contemporaries/fremantle/barons_cottesloe.htm
Swanbourne, An Inventory of the Historical Monuments in Buckinghamshire, Volume 2: North (1913), pp. 288-293
Early English Historical Records
Tha Anglo-Saxon Chronicles provide a history of England and Britain from Roman to Norman times.  They were histories recorded by Anglo-Saxon Monks such as Bede. These are open access and you are free to copy and distribute as you like.