Price Family
The Price Family
Family Tree researched by Linda Rodgers 
John Price of (12 Mursley Road) is the only living descendant of the Price family of Swanbourne.  His family tree shows that all his paternal ancestors over the last 300 years have come from within 50 miles of Swanbourne, and originating from North Oxfordshire.  However, all of his maternal ancestry is Swanbourne and neighbouring villages, all within about 8 miles radius.  There are strong links to the Swanbourne Alderman family.
John's grandparents ran the Boot Inn and Public House in Smithfield End, and his parents had an unusual age gap of 30 years between them; his father was 54 and his mother was 24 when they got married.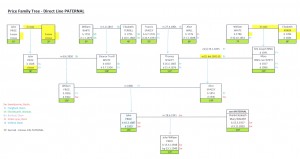 Sources of information used to plot the paternal and maternal trees:-
Detail of paternal tree in PDF:- 
Price family tree – Direct line Paternal
Parish and Census Records as PDF's:-
Price family tree – Direct line Maternal
Price family tree – Maternal Census Data
Price family tree – Paternal Census Data
Price family tree – latest (slightly amended) version – 27th December, 2013.  Full trees and Census Records in searchable Excel format.
ALSO SEE World War 1 – Soldiers from Swanbourne