Excelsior Band
Swanbourne's Brass Band (early 20th Century) – The Swanbourne Excelsior Brass Band
Ken Harris explains
At the beginning of the 20th Century, Swanbourne had its own brass band. We do not know when it started, but the Bucks Herald of 24th May 1902 records that the band headed a parade of the village on Thursday 15th May, as part of the Annual Swanbourne Benefit Club Festival.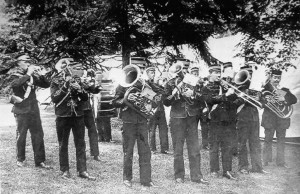 Its Bandmaster was George Edwin, who seems to have been George Manders Edwin, a bricklayer from Winslow, who was living in Swanbourne in 1901 (census) with his wife, Louisa, and their daughter Edith. Their marriage was registered in Jul – Sept 1891 in West Ham, Essex, but he was buried in Swanbourne on 17th June 1908, aged 28 – his address being The Asylum, Stone.
The last reference relating to the band so far found is for Tuesday 7th August 1906, when the band played at the Swanbourne Sports Gathering, so it may have been a very short-lived band.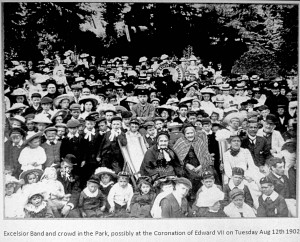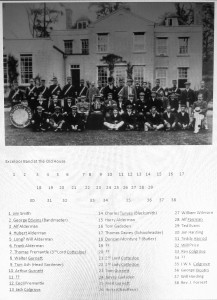 (Note:- Click on photographs to enlarge)