Charles Gurnett – Emigrant to Australia
Charles Gurnett – Emigrant to Australia
By Audrey Porter (nee Gurnett) of Australia (with some additions from Neil Rees)
Charles Gurnett (1833-1899) of Swanbourne Charles Gurnett was born in Swanbourne, Bucks in 1831, the son of John and Elizabeth (nee Anstee) Gurnett.  On 27th September 1852 he married Elizabeth (known as Betsey) Wilmore, born 1833 daughter of Richard and Ann Wilmore of Shipton, Winslow.
Going to Australia On 21st October 1854 Charles and Elizabeth Gurnett sailed on the ship "Samuel Boddington" out of Plymouth bound for Botany Bay, with 259 assisted emigrants. The ship was a built in Whitby in 1841 as a barque of 669 tons.  They arrived in Sydney, Australia on 17th February 1855 after a voyage of 110 days.  Charles and Elizabeth Gurnett settled in the southern tablelands of New South Wales, in the sheep grazing district now recognised as Australia's finest merino wool producing region.  Charles and Elizabeth had many children: Henry George born 1853, Ann Wimore Gurnett 1855-1947, John 1861-2, Susan 1857-1944, William 1863, Jane 1858-1957, Sarah 1867, Elizabeth 1865, Sarah 1867, James 1870-1959, Benjamin 1872-1875 and Richard Wilmore Gurnett 1878-1954.  Richard joined the Australian Army on 9 February 1915 and did not marry.
The Gurnett and the March Families 
The Gurnett family were close friends with the March family of Gundaroo, a town nearby.  Thomas James March 1814-1902, who was born in Aylesbury, Bucks, in 1814, had arrived in New South Wales in 1837 aboard the "Orantes". His son George Henry March 1850-1917 married Jane Gurnett, daughter of Charles and Elizabeth Gurnett.  She died in 1957 aged 99 years.  In 1899 his granddaughter Lavina March (1870-1959) married her brother James Gurnett.
Frederick Hamilton March (1891-1997)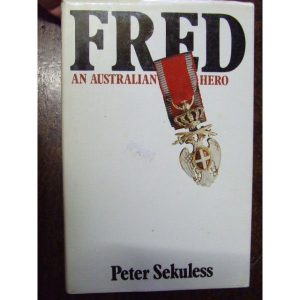 Jane Gurnett's son, Frederick Hamilton March, GC, MBE, was awarded the George Cross for bravery under fire at the time of the assassination of  the Governor General of the Sudan.  The book "Fred, An Australian Hero" by Peter Sekuless (University Of Queensland Press, 1981) tells also of Frederick Hamilton March's service at Gallipoli and at the Battle of Beersheba.  A commemorative plaque for Frederick March is displayed in George Cross Park on Blamey Crescent, in Canberra.  He is mentioned in the Australian Dictionary of Biography.
James and Lavina Gurnett 
James and Lavina Gurnett grazed sheep for fine wool on their property Myrtle Vale at Bowning, near Yass, in southern New South Wales.  They raised a son Charles Bernard Gurnett, and a daughter Doris Priscilla May Gurnett.   Doris married into the Buckmaster family and her family continues sheep grazing in the Yass River district.  Charles Bernard Gurnett did not follow his father on to the land, preferring a career in retailing.  In 1947 Myrtle Vale was sold and James and Lavina Gurnett moved into Yass town, where in 1959 they celebrated their Diamond Wedding Anniversary. In l934, Charles Gurnett married Esme Lillian Jentsch, at Bowning Church, she was daughter of the local schoolmaster.  Charles and Esme Gurnett spent all their married life in the city of Sydney.  Most of their family continue to call Sydney home.  Charles and Esme had a daughter, Audrey, and a son Neville Gordon Gurnett.    By the time Audrey and Neville were born, the Gurnetts were firmly established Aussies.  All the other direct ancestors of Audrey and Neville were in Australia by the time the Gurnett couple arrived in 1855.  From 1855 on all the family members were born in Australia. Neville and his wife Diana (nee Logue) Gurnett have 2 girls and twin boys Adam Charles Gurnett and Simon Gordon Gurnett (born 1977).
The Gurnett Family today
Thirty two years passed after Adam and Simon were born  before another boy arrived, to carry on the Gurnett name in New South Wales.  Adam Gurnett now has Lucas Gurnett (2009) and James Gurnett (2013), and Simon's son Joshua was born in 2011.  All the descendants of Charles and Elizabeth Gurnett of Swanbourne have done well in Australia.  The current generations have had professional or rewarding employment, they have owned comfortable homes, most have enjoyed good health and have travelled the world, and all have had interesting and worthwhile lives.  Neville and Diana Gurnett have retired to Mona Vale, on the northern beaches peninsula of Sydney.