The Tonyn Brothers – Swanbourne Links to Africa and Florida
Charles W. Tonyn and his family links to Africa and Florida (revised January 2020)
By Clive Rodgers
Charles William Tonyn (1728-1805)
Reverend Charles William Tonyn, Vicar of St. Swithun's Church, Swanbourne,  seems to have been unusual in the Tonyn family in that he went into the church rather than following his father into a military career.
Originating from Berwick in Northumberland, his father Charles William Tonyn snr. (who died in 1775), had been a Colonel in the 6th Inniskillen Dragoons. The children of Charles snr. have significant roles in British history, and most at some point in their lives lived in Buckinghamshire.  Amongst the Tonyn brothers, there are a number of famous military and politican connections.
Charles jnr. graduated from the University of Oxford and was ordained as a Priest on 10th November, 1754. He was appointed Chaplain at the British Factory at Algiers, and returned to Britain in 1756. Charles kept a record of events in his Algerian diary.
Diary extract:-
27 November 1754: 'This day I set out from London to take Ship for Algiers at Gravesend took Ship'. 28 December 1754 he arrives 'at Alicanti in Spain'. The next day he dines with the Consul and has 'the Pleasure of meeting Mr Bagott'. 5 January 1755: 'Set Sail from Spain and arrived at Algiers ye 10 Friday 1755'. Diary continues with spare entries until 26 February 1755. Followed by a five-page note beginning 'remained in Algier till June the 27th Anno Domi: 1756. Sunday June 27 Sailed from Algier for Cape Tennex to take Corn in for Leghorn. Arrived at Tenez on the 2d of July. Compleated our Cargo & weighed Achor July ye 26 this day I Thanks to God I took leave of the Barbarous Kingdom of Algier. Sailed with a fair Wind for Leghorn. July 31st we were in great danger of being shipwracked on an Isle at the S.E. end of the Kingdom of Sardinia.' They 'lay off the Ancient & famous City of Carthage' and are then 'taken by a French Privateer within 3 Leagues of Leghorn'. The crew are 'taken out & 18 French placed in their room out of which only four Sailors'. A storm 'carried away our main & fore Top sails. Hard weather 18 Carried away our main Sail. & the Sailors refused to work no Bread on Board for the three last days.' An officer sent ashore 'got Bread but no water but what he saved for ye Capn & him self [..] the Crew thought themselves well feasted when they could catch a few Rats [..] we were obliged to drink Vinegar'. They arrive at Marseilles 3 September 1756 and remain on board till 11 September, 'when by the assistance of Messrs Sollicoffre & Fitler I was sent to the Lazzaritta to perform Quarantine'.
By 1757, he was back in England, and from 1760 until his death in 1805 he resided in Buckinghamshire at Swanbourne Vicarage (after being appointed the Vicar) from April 1760 to February 1767, then at Radnage Rectory near Princes Risborough, Bucks, (after being appointed the Rector) from 14th February 1767 to 1805.  His widowed mother lived with him until her death in 1794, aged 90. He was also already a JP for Buckinghamshire.  He never married.
When living at Swanbourne, Rev. Charles Tonyn lived in the original Swanbourne Vicarage which was situated next to St. Swithun's Anglican Church.  Around 1870, this was pulled down after a fire and replaced with a Gothic style Victorian building.  A photograph of the original building is shown below, next to the church.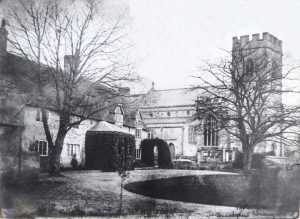 While living at Swanbourne, the following advertisement appeared in The Oxford Journal, of June 25th, 1763:-
At SWANBOURNE, near WINSLOW, BUCKS ;
                                          T R I P O L I
A Very fine Arabian HORSE, rising Five Years old and of the highest Blood, the Present of the BEY of TRIPOLI to Capt. TONYN of his Majesty's Ship Brune, is just arrived, and will cover Mares at Three Guineas each, and Half a Crown the Servant.  The Money to be paid at the Time of Covering the Mares, or before they are taken away.
The BEY of Tripoli was the ruler of the Bay of Tripoli on the Barbary Coast of the Ottoman Empire.  Hence the horse was named Tripoli, and it was available to hire for stud in Swanbourne.
Captain George Tonyn (died c1785)
Captain George Anthony Tonyn was a brother of Charles who was Vicar of Swanbourne at this time.  George had taken part in the capture of Quebec with General Wolfe during the Seven Years War.  He was appointed commander of His Majesty's Squadron off East Africa in 1768.
He was Captain of the British ship H.M.S. Brune which on 23rd October, 1762, engaged the French Frigate L'oiseau commanded by Capitaine De Modene.  A great victory for Captain Tonyn was achieved, with the capture of the French vessel and the taking of over 180 prisoners.
The Bey of Tripoli and his people were impressed by bravery as shown by Captain Tonyn and his victory against the French, which may be the reason why they gifted to him one of the best horses on the Barbary Coast.  In the 17th and 18th Century England, Arabian horses were highly prized.  Modern thoroughbred horses can be traced back to about only 30 stallions imported in to England over two centuries.
It may have been that Captain George Tonyn, when home, was living close to his brother in Swanbourne, and certainly George Tonyn had stud hire business interests in Swanbourne.  Alternatively, it may be that Rev. Charles Tonyn simply looked after his brother's horse, keeping it in Swanbourne.  Rev. Charles Tonyn had been awarded a large amount of land at Swanbourne Enclosure in 1762, providing him with plenty of land for grazing animals.
Other siblings of Charles jnr. and George A. Tonyn
John Columbine Tonyn  (died 1793) –  A cavalry commandant with the East India Company in Madras, India.
General Patrick George Tonyn (1725–1804)  – Most famous sibling of all was General Patrick George Tonyn.
He saw distinguished service in the Seven Years War, then rose to become last British Governor of East Florida between 1775 and 1783, and subsequently supervised the hand over of Florida to the Spanish before he left in 1785.
Parish Records dated 1754 from Clandestine Marriages in London record the marriage  of 'Patrick Tonyn of Elsbury in Buckinghamshire Gentleman and Bart. and Miss Mary Willing of Red Lyon Street Holborn in the County of Middlesex'.
However, there is no village or town called Elsbury in Buckinghamshire, so this is presumably a phonetic spelling of Aylesbury, which must have been his place of residence.
A negro boy from Florida is sent to Buckinghamshire
Peter George Florida (1761-1793) is not a sibling, but a negro boy, probably a slave,  most likely sent from Florida to Buckinghamshire as a boy servant, and given to the care of Rev. Charles W. Tonyn as guardian.
During the time when Reverend Charles Tonyn was Vicar at Swanbourne, his brother Patrick Tonyn (in 1763), was invited to make a settlement in Florida immediately after the Seven Years War.  However, he was unable to fully take this up until 1767, when he had surveyed and accepted approximately 20,000 acres of land.
At about the same time, Charles Tonyn was just starting work as Rector of St. Mary's Church, Radnage, after resigning from St Swithun's, Swanbourne.  Peter George Florida was baptised in St Mary's Church, Radnage, in 1769. The record reads: Peter George Florida negro child of about eight years of age.  No parents are given.
It seems most likely that Patrick Tonyn (who may have been a slave trader himself) sent Peter George Florida to be cared for by his brother Charles Tonyn, and that the most likely date for this to have happened would have been around 1767/8, soon after Charles had moved to Radnage.
Reverend  Charles William Tonyn also had at least two sisters. One was Juliana Tonyn who married Francis Levett the younger. Francis Levett was a plantation owner in East Florida. His Will suggests that he owned plantations of 1000 acres in Julianton Inlet and St John River as well as houses in St   Augustine and 80 slaves, so this could equally be a source for Peter.
A pub in Radnage (20 miles from Swanbourne) was for many years called 'The Black Boy', named after Peter Florida, and there is another pub today at Oving (2 miles from Swanbourne) of the same name, though the origins of the latter are not known.
Background to British Florida
Britain had won the Seven Years War (allied with Prussia and Portugal), defeating France, Spain, Austria, Russia, Sweden and the Indian Mughal Empire.  In North America, Canada and Florida were ceded to Britain in 1763 as part of the peace treaty.  As part of the agreement, Spain ceded Florida to Great Britain, and most of the Spanish settlers moved out.
The song 'Hearts of Oak' was written to celebrate the British victory of the Seven Years War, and to this day it is still the official marching song of the Royal Navy and Royal Canadian Navy.
Colonel Patrick Tonyn became the second British governor of East Florida. He was commissioned as Governor on 22nd July, 1773. Colonel Tonyn is generally regarded as being a good governor, especially when compared with his Spanish predecessors, and fostered good relations with the Seminole Indians.
In 1775, at the start of the Revolutionary War, Governor Tonyn prepared for Florida's defence, including the construction of Fort Tonyn and several other forts.
On November 2, 1775 Governor Tonyn invited the loyal to come to Florida and offering them free land to settle. In 1776, when the Declaration of Independence was signed, the British Loyalists in St. Augustine, the capital of East Florida,  burned the Declaration of Independence and burned an effigy of John Adams and John Hancock in the streets.
In 1778, Georgian revolutionary militiamen captured, stripped, and killed British Lt. John Kemp along with nine of his Loyalist men for refusing to renounce the king.  The term "lynching" comes from Col. Charles Lynch of Virginia, who became famous for the illegal executions of Loyalists and those who refused to take either side including civilians.  Itimidation of loyalists who were against or not involved in the rebellion was extreme.  If not murdered, they commonly had to suffer tarring and feathering, theft of their livestock and rape of their wives or simply their murder.
Back in Britain, the Revolutionaries were perceived by most as insurgents and rebels.  Many people were shocked by the barbarity of the rebel atrocities against loyalists.  At home, a high level of British National Debt had been incurred in part from the costs of defending the British colonists from the French and Spanish during the 7 years war, and taxes were at a much higher rate at home than in the American Colonies that they were defending.
Florida, the Fourteenth and newest British American Colony, was the only one South of Canada to remain totally loyal to Great Britain.
CLICK for an overview of the Revolutionary War by the distinguished military historian Professor Richard Holmes http://www.bbc.co.uk/history/british/empire_seapower/rebels_redcoats_01.shtml
Sources include the Ancestry website and similar family history websites as well as Buckinghamshire Parish Records, British History Online, Florida History Online and The British Newspaper Archive and historic photographs held by the Swanbourne History Group.
 RETURN to Historical Events Category
RETURN to Interesting People Category